A day in the life of a marine biologist
I joined the wildlifearticles.co.uk writing team in August last year and since then have thoroughly enjoyed writing articles on marine species, habitats and issues.
The marine environment for me is an exciting, interesting and beautiful place that just begs to be understood. My full time job during the day is (finally!) as a marine biologist. I have always enjoyed nature and the great outdoors but it was only when I was looking for something to study at university that I landed on marine biology. I had a brilliant three years studying marine biology at Newcastle University and then completed a Masters in oceanography at the University of Southampton, before entering the 'real' world of work.
The first question I often get asked when I tell people what I do is 'Oh, so does that involve dolphins and whales?'.As I learnt over my four years of study, there are only a very few jobs that only involve whales, dolphins or coral reefs. There are, however, numerous exciting and interesting jobs out there for those who have studied marine biology and some do involve dolphins!
Unfortunately most marine biologist don't get to do this every day! (picture fiji-diving.com)
There are four main routes that marine scientists tend to go down, if they decide to remain in the sector after university. These are research (for universities or independent bodies such as Natural Environment Research Council), conservation (for numerous charities, non-governmental and governmental organisations), regulation, which is quite similar to conservation (fisheries), and industry (for commercial companies such as consultancies).
In my year and a half since leaving university I have worked (paid and voluntary) in three of the four sectors, whilst trying to find a longer-term job. I began working for my supervisor from my masters course at the National Oceanography Centre in Southampton. My job involved identifying (with a microscope) phytoplankton species from water samples collected in the UK, Arctic and Antarctic and had the posh title of 'Microplankton Analyst'. Although the day to day work involved sitting at a microscope all day (which was particularly hard in summer), I loved the final outcome, which involved actually helping the scientific community to understand something new about the marine environment.
A Dictyocha species of phytoplankton that I used to identify from water samples (image www.antarctica.gov.au)
Once this job finished, I moved home and returned to my old summer job, whilst I applied for my next marine job. During this time I volunteered for my local wildlife trust, which runs numerous education and outreach events during the summer. I especially enjoyed helping to run rock-pooling events; educating visitors and locals about my local marine environment, learning a few new things, and allowed me to revert to my inner child again too!
Last autumn, I finally got an opportunity to work in the commercial sector. Although this is not what I really, really want to do (that would be conservation), it is great opportunity to gain valuable work experience that university doesn't provide you with and earn a decent salary (which until you have a few years experience is difficult to get in the conservation sector). . The first job was another taxonomy (identifying species) role. The company I worked for, as a 'Graduate Marine Taxonomist', receives sediment samples from clients and  identifies the species found in them, before sending the results back for use in reports and research. The clients ranged from conservation groups studying protected marine environments or trying to decide where to designate further Marine Conservation Zones, to commercial companies that require this work done as part of planning applications for ports, oil exploration etc. I thoroughly enjoyed this job and learnt loads about the species that live on top of the sediment (starfish, urchins, crabs, bivalves) and those that live within the sediment (worms).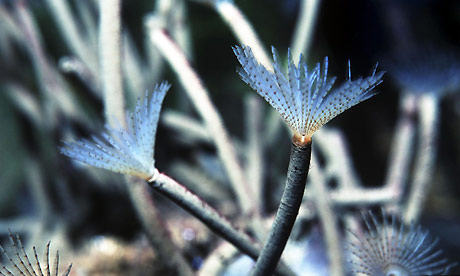 Peacock worms (Sabella pavonina) which can be found off the UK coast (image theguardian.co.uk)
However, I was only given a short-term contract with this company and when I was offered a permanent contract by the company I now work for, I couldn't turn it down. The commercial company I am working for completes consulting work for oil, gas and renewable companies. To give you some background, just like on land, when someone wishes to build something or do something in the marine environment, they must complete an assessment on the impact to the environment (Environment Impact Assessment), among other things. My job is to go out to the proposed site (I should hopefully be going offshore for the first time soon!), collect data and then come back to the office to write a report for the client. We tend to collect video and photo images, sediment and water samples to help us describe the habitats and species we encountered. In our reports we give unbiased scientific information. It is not up to us to decide whether a building/drilling can go ahead, but to provide the information for the deciding body (in the UK often JNCC or Environmental Agency) to make the decision. But we can also suggest to the client what could be done to reduce the potential impact of the proposal.
The North Sea seabed (a lot of the time we do just see lots of sandy/muddy sediment!) (image jncc.defra.gov.uk)
4,709 total views, 1 views today
The following two tabs change content below.
Hannah Lawson
I'm a marine biologist working as an Environmental Scientist for a marine consultancy. I love nature and the marine environment. I try to spend as much of my spare time outside and getting involved with conservation and outdoor activities.
Latest posts by Hannah Lawson (see all)